Call Now for a Free, In Home Visual Assessment 866.386.2612 US dot: 2268216 | IM# 2181 | Mc: 774466
Welcome to Gulf Coast Van Lines
As many moving companies in Tampa do, Gulf Coast Van Lines offers a wide variety of services, from commercial moves for small and large companies to residential moves for homes and apartments. And, unlike many movers in Tampa, we offer full and partial packing services for you household goods or your business inventory.
Short & Long Term Storage Facility
Our staff is trained to serve your moving needs and to offer you the best moving service to suit your budget and deadlines. We provide free online moving estimates as well as free visual moving estimates at your home or business.
In Home Visual Estimates
The visual estimate helps us to understand your moving needs better and to visualize the size of your move. At the end of the visual estimate we offer you a binding moving cost, which will not exceed the estimate. We offer free move consulting and planning, and we will be happy to assist you with any questions or concerns you may have along the way. Please ask our relocation specialists if your move size requires a visual, phone, or online estimate. We provide moving services seven days a week, during the day or after business hours at no additional cost. Our movers in Tampa, FL are standing by to take your call. We offer fully supervised moving services from start to finish. Your belongings will be transported in our clean and modern trucks. We will disassemble and reassemble furniture as needed, and provide protective padding for all furniture and where needed to safeguard your home, business and inventory. If you are moving into storage or out of state, your belongings will be labeled and a detailed inventory list of your things will be created. We offer general and customized liability coverage that protects your goods, property, and trucks including worker compensation. Please review our website, we hope you will find it helpful. Do not hesitate to call us or submit a request for a free online estimate. Please check out our moving coupons to save money on your upcoming move. Thank you for considering Gulf Coast Van Lines for all your relocation needs. We hope you are going to join our circle of satisfied customers.
A+ rating with the Better Business Bureau
Estimates provided by Certified Moving Professionals.
Fully licensed and insured
Adheres to Washington Utilities and Transportation Commission rules.
Dedicated to customer service and efficiency
Members of American Moving and Storage Association (AMSA).
Free, no obligation in-home estimates
Competitive rates.
Refund policy for unused packing materials
Low minimum rates for shipments moving under 300 miles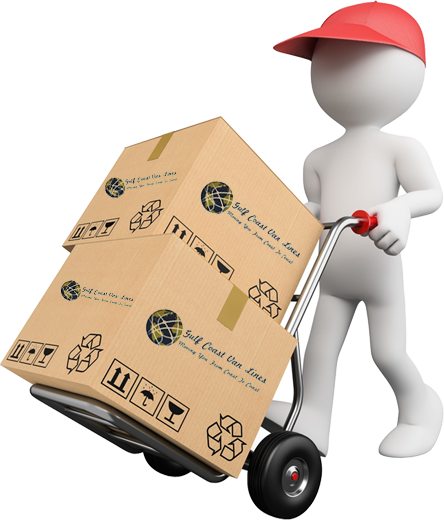 Movers Video
Client Testimonial
"Extremely reasonable-honest-prompt-friendly-very careful in wrapping the furniture-I did shop the prices and found this company to be competitive in pricing but they do not nickle and dime you and they do customize the move.Thanks,Gulf Coast Van Lines for a job well done."
"Not sure how these guys from Gulf Coast Van Lines stay positive during such a stressful and demanding task, but that they did, making a tough day as easy as it could possibly have been. Their crew was careful but quick and remained upbeat when what seemed like a half-day job stretched well past eight hours.Gulf Coast did an awesome job on our move and I will recommend them to all my friends! "